As a designer, I used my creativity only for my work, but not at all for my own health. I went to bed after midnight, woke up before noon, ate at night, hardly had a wink of sleep. I worked hard, played harder. I used my body without care.
Then, diseases started to knock on my door. After having tried various medical treatments, finally I met a doctor who introduced me a 6-week food recipe instead of medicine. With the goal to recover and to become healthy as before (I really love sports). I decided to change completely my eating habits and lifestyle. Going to bed before 11pm, waking up at 6am to get golden morning sunlight… Just after first 3 weeks, I started to have naturally glowing face and radiant skin without using any wonder skincare!
"I already have the best medicine in my own kitchen!"
Realizing that eating 5-colors fruits and vegetables everyday is not easy, I designed a new way of blending ingredients which is called Hi-Low Blending. I blend various vegetables and fruits with high speed blender. Then I use low speed juicer to extract the juice. This is quite complicated but the result is great because important enzymes are well preserved and fiber contains phytochemicals which are very high in nutrients. I made 5-color fruit and vegetable smoothies at my place, just for myself until I got a nutrient-rich and easy-to-drink recipe after 3 years. At that time, I only made for myself and shared this recipe with friends via Facebook. I didn't plan to do this as a business because I was still in love with my designer career.
Until one day, we thought about finding someone to manage an area in our own bicycle shop which was a coffee bar at that time. My dream to start a green business took shape. Also, my friends who used to drink our juice recommended me to sell it. I thought that making only 20-30 glasses per day for friends and families was possible. So finally, "Pukpun" was created inside our bicycle shop, Velayenn Thonglor.
1. Pukpun uses pre-order system to calculate quantity of raw materials according to actual usage. Fresh and no waste! Our organic ingredients are grown with love and care in every process, washed and cleaned with ozone cleaning system.
2. Pukpun reuses packaging to reduce single-use plastic waste. We clean our jar everyday with ozone cleaning system.
3. Pukpun delivers our juice to customers by bicycle. Clean energy. Ideal job and good society are created every morning.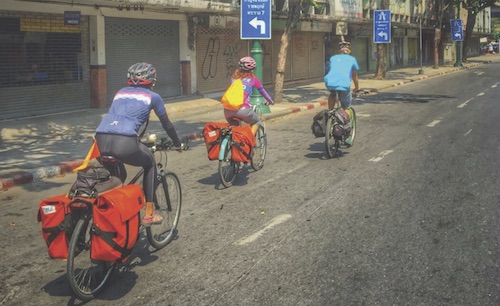 Our aim is to establish a green business and to create an ideal job to help make the world a better place.
We start with food, fruits, vegetables and cereals. We used to drive to many markets to buy raw materials. Today we have enough customers to be able to ask farmers to grow what we need. This is how we get high nutritional value ingredients for consumers and how we support organic plant farmers to earn income from their good quality products. When demand increases, there will be more and more farmers. They will be able to sell their products in a good price because they know an exact order quantity. The more organic farming is, the better the environment will be. Consumers will be much more aware of food source, and care much more about protecting natural resources and environment.
We start from this small point, and we hope to see it grow into many more points until they become a big area. We wish that our business could be a part to support sustainable growth of human-being and nature.
That's all our idea. We would appreciate if you like it or you are inspired. We are open to receive all comments through our fan page. If you would like to try our 21-day fight program, Detox or Hello Test, just fill out your information in our membership application page.
Thank you for reading this until the end. We hope that our story can inspire you in some ways…
Thank you for all support from everyone. This really means a lot to us! #PukpunZhang