PUKPUN ELEPHANT 2L.
5-color fruit and vegetable smoothies, freshly made every morning.
2-liter jar fully filled with good health! 1 jar can serve 8-10 people. Best drink choice for meeting, seminar or workshop! Drink as breakfast helps reboot your brain, refresh your body. Good as meal replacement thanks to its high nutritional value.
PUKPUN ELEPHANT 1-DAY 700 THB*
PUKPUN ELEPHANT 5-DAY 2500 THB*
PUKPUN ELEPHANT 21-DAY 9600 THB*
*Including delivery fee
*Including cost of 1 mason jar which will be given on the last day. In case of course renewal, you can resell the jar to us.

Remark:
- Order in advance at least 3 working days (depending on quantity)
- Delivery by bicycle within 0-11 km from our 4 hubs (Thonglor/ Ramindra/ Rama 2/ Prachachuen)
Detox
Detox Program : 5 days I love you (body)
If you need to remove toxins from your body, we can help you with this 5-Day detox program.
You can replace 3 meals by drinking 4 jars of our 450ml-detox juice per day.
If you feel hungry, you can eat salad with vinaigrette dressing, brown rice, green apples or bananas.
What you should do in parallel :
Make your mind bright, clear and cheerful.
Wake up early to enjoy golden morning sunlight during 6:00 – 8:00 about 15-20 minutes. Let your head and hands touch the sunlight. You will get vitamin D and hormones will be balanced.
Go to bed before 22 :00 to allow your body to build and repair damaged cells and tissues.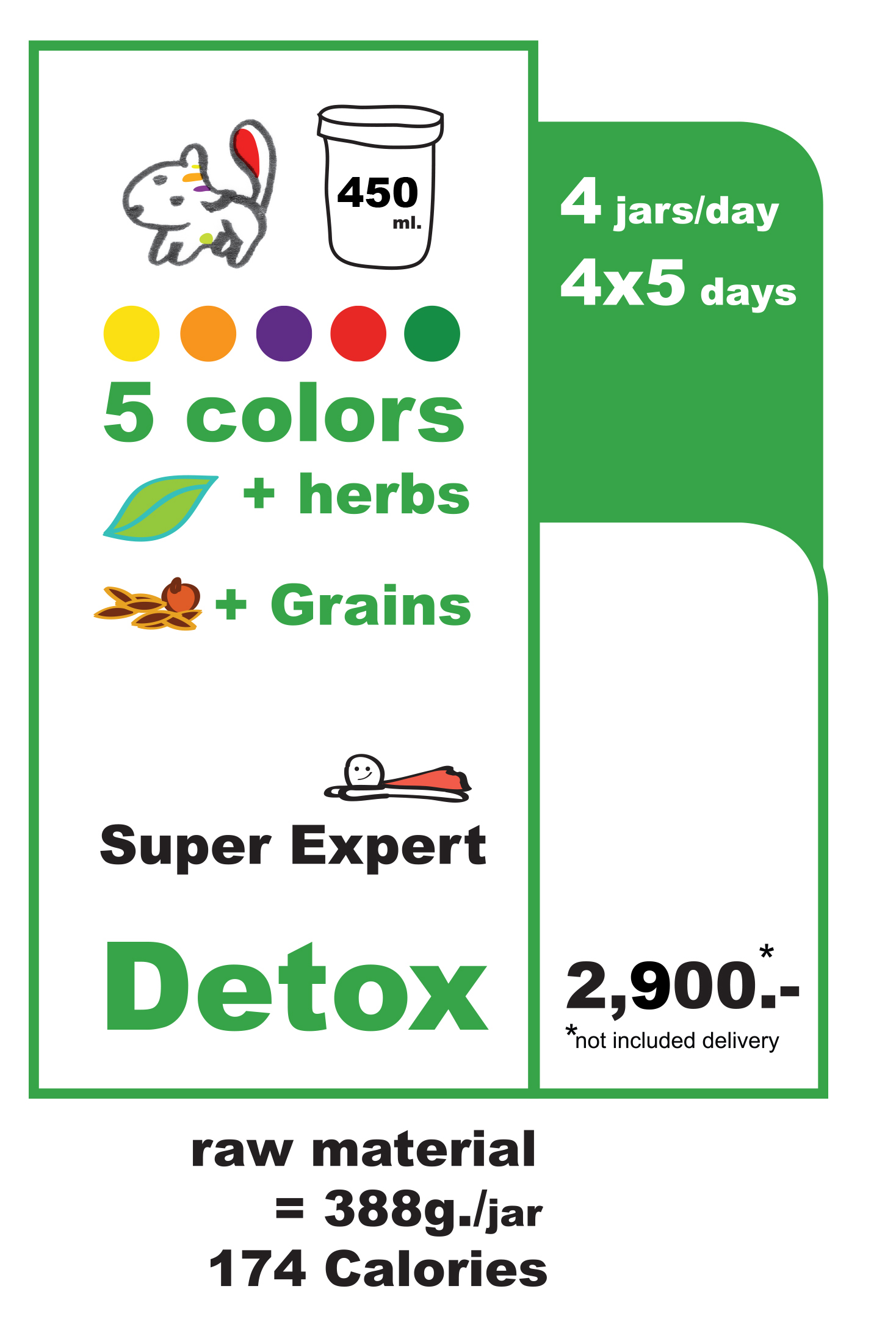 *
Included cost of 4 Mason jars. At the end of a course, jars will be given to you.